Under the auspices of The Magique Flute, I hold Flute Ensemble Workshops for children and adults in Saratoga Springs and Ballston Spa, NY, the Capital District and the Lower Adirondack Region, including Glens Falls, NY and the Lake George Region. My rates are reasonable and competitive. 
I am happy to lead flute ensemble workshops in schools, as an after-school activity, or in my studio or other private location.
I believe "The More, the Merrier!" when it comes to flutists playing flute ensemble music!
What members gain from attending is the opportunity to meet other flutists and to play interesting flute ensemble music, to increase their skills as ensemble players, learn more about playing the flute and ensemble performing, and to perform in the community, if they so choose. Plus, the workshops are a lot of fun!
I have had over 25 years of experience leading flute ensemble workshops, the most recent in the fall, 2011, in Saratoga. (You can read a testimonial by C. Smith for some information about this most recent workshop.)
During each meeting, I hold a short "Teaching Moment" about different flute techniques, ensemble-playing skills, and background about the historical times and personal history of the composer whose music we are playing. I also teach basic conducting as part of the workshop, and all members, including children, are given the opportunity to lead the ensemble. This is always great fun!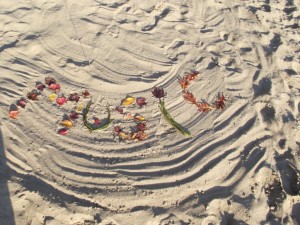 There is a plethora of flute ensemble music, from duets, trios and quartets to full flute choir with alto, bass and contra-bass flute parts. Flute ensemble workshops are a wonderful way to try out many different kinds of flute ensemble music.
Please contact The Magique Flute for more information about my flute ensemble workshops. I look forward to hearing from you, and Happy Fluting!
Audio clip: Adobe Flash Player (version 9 or above) is required to play this audio clip. Download the latest version here. You also need to have JavaScript enabled in your browser.